The words "boots" and "bindings" are used interchangeably in waterskiing, but whatever you call them, they are one of the most important pieces of equipment you will own. Being comfortable on your ski is crucial to enjoying your day on the water. Find the right boots that fit you and your style, and you are sure to have a great time skiing.
---
Open Toe vs. Closed Toe Boots

When you are shopping for waterski boots you will notice that there are two main styles. Boots that have an open toe, and boots that fully enclose the foot.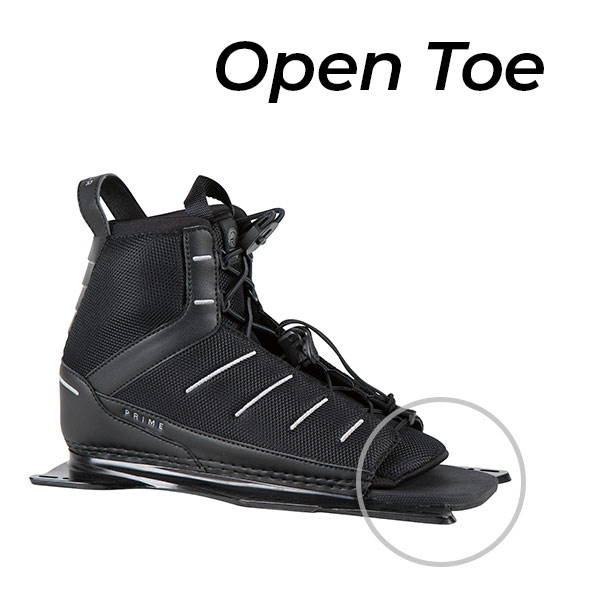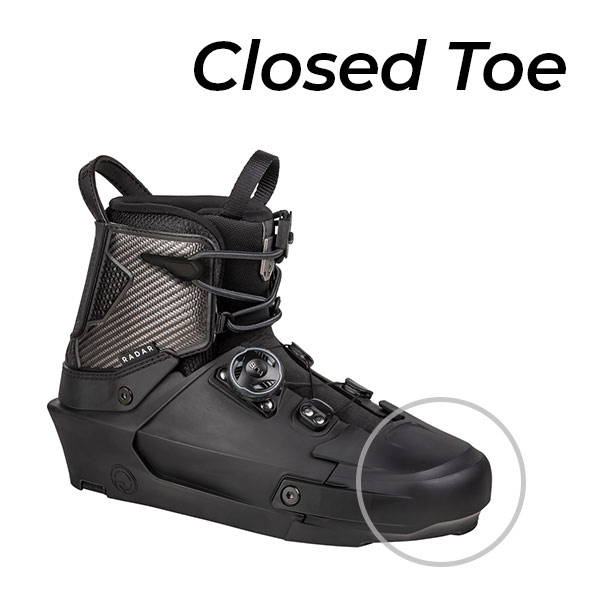 Open Toe
There are a few benefits to an open toe boot, a major one being that they can be shared by multiple skiers. This is because they are made to accommodate a range of foot sizes and are not constrained by a toe cap on the end of the boot. For example, the popular Radar Vector boot is made in 3 sizes, each with a range of foot size that they can accommodate. If you fall in one of these size ranges then the boot will work for you, and all your friends who happen to fit in that size range as well. However, what you gain in versatility and freedom, you do lose a little bit in performance. An open toe boot will not secure your foot quite as snug as a closed toe boot would, and they typically won't provide quite as much support either.
Closed Toe

When you start progressing your skiing you might want a more supportive and comfortable boot, this is where the closed toe option comes in. Closed toe boots are made to fit one (sometimes two) foot size. This means that the boot will only work for someone with the exact foot size of the boot you purchase, which makes sharing amongst your friends more difficult. However, with what you lose in versatility you gain in support and performance. A closed toe boot will be the most supportive option, allowing you to waterski at the highest level and allow you get the most feedback from the ski.
---
How Should Waterski Boots Fit?

Waterski boots use U.S. numerical shoe sizes to determine the size of their boots. Waterski boots should fit snugly around your foot, but never cause any pain or pinching. For closed toe boots your toes should be just shy of the end of the boot, similar to how a properly fitted shoe will feel. For open toe boots, as long as you fit in the range of sizes the boot offers you should be good. However, if you are on the fence between two sizes it is always a good idea to size up. When you first take your boots out to ski, they will often feel stiff and that is normal, as the boots are fresh from the manufacturer and are designed to have a break in period. Most waterski boots have a bungee that is used to tighten the top portion of the boot, it is important to note that you do not want to overtighten this section of the boot.
---
Waterski Boot Lacing Technologies

There are quite a few different waterski boot manufacturers out there, and they all have different methods and technologies that are used to secure your foot into the boot. Some skiers have preferences after trying a few different styles, but they all are designed to get the same job done.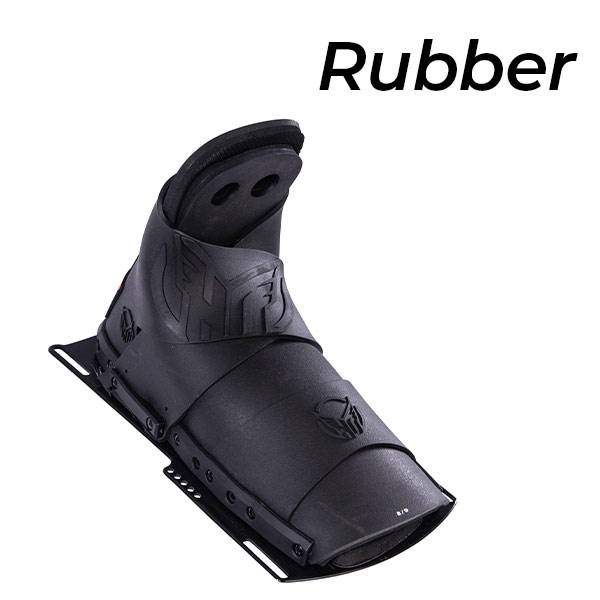 One of the most popular waterski boots of all time is the HO Animal, and is made almost completely out of rubber. This style of boot rests in a fixed position, meaning you slide your foot in and out of the boot but do not adjust any lace locks or straps. Some skiers love rubber boots as they are classics in waterskiing. But after trying a newer updated boot that features adjustability, many skiers find that they prefer the customizability and comfort that comes in the newer boots.
---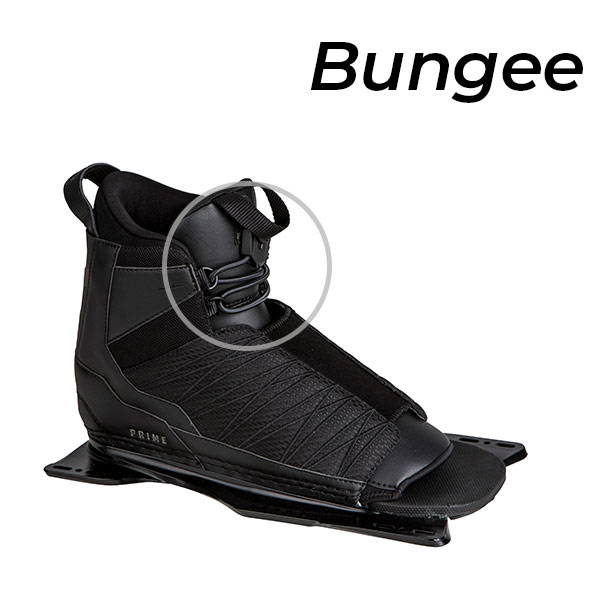 Some boots feature just a bungee to secure the boot closed. This is a quick and easy way to secure your foot in the boot, but will lack the support and adjustability that you get with other lace options.
---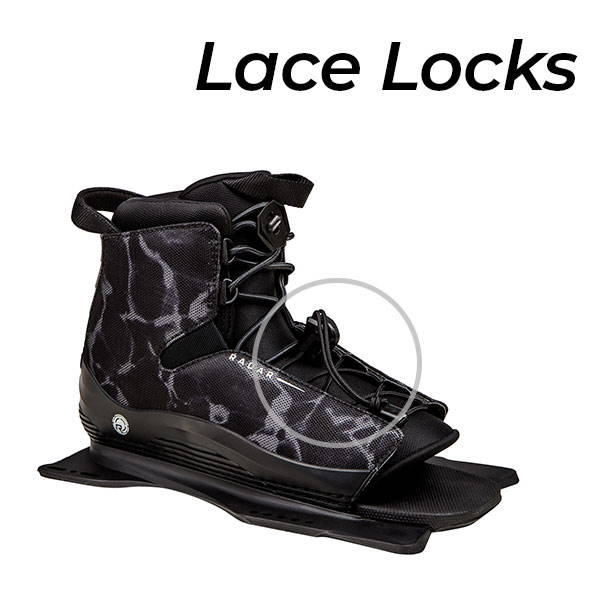 In addition to a bungee on the top section of the boot lace locks are added as a way to get a more secure fit. Lace locks have been used in waterski and wakeboard boots for many years, and are the most typical way of securing the boot around your foot. Simply pull the lace tight, slide the lock down to the boot, and tuck the excess lace away and you're good to go. Lace locks are easy to use and adjust.
---
A very common method of securing the boot around your foot is a "reel lacing system", typically called BOA or ATOP. This lacing is a technology that allows the user to twist a dial and tighten a series of cables that run across their foot. This system is commonly found in snowboard footwear, as well as many other industries like running and biking. These systems are easy to use and give you the option to "micro adjust" your boots to get the exact fit you desire.
---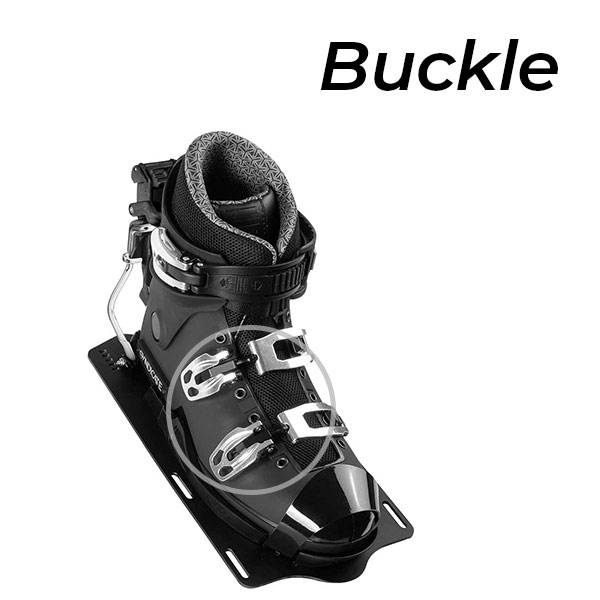 On some high-end tournament waterski boots you will find a buckle system similar to what you would find on a snow ski boot. This method allows the skier to get a very secure and repeatable fit. A boot that features this is the HO Syndicate Hardshell.
---
There are two options when it comes to setting up boots on your slalom ski, you can go with a double boot setup, or you can opt for a front boot and a rear toe plate (RTP for short). While a double boot setup will give you the most support, having just a rear toe plate gives you the most freedom, and allows you to get up with only one foot in your ski since you can easily slip your foot into the toe plate once you're up. This choice truly comes down to personal preference.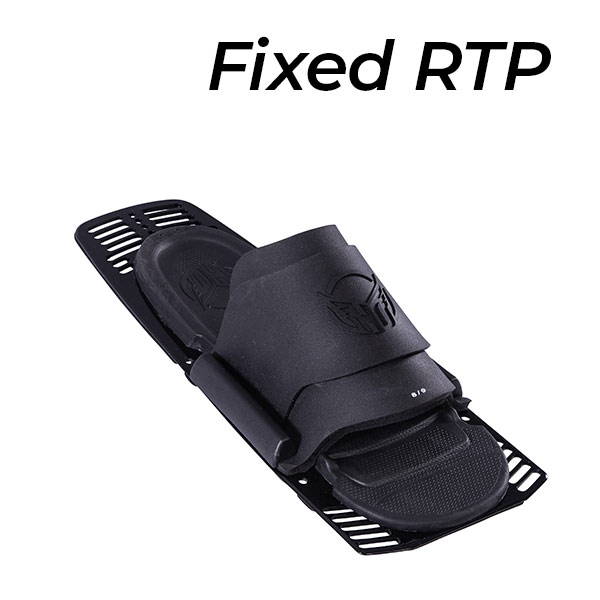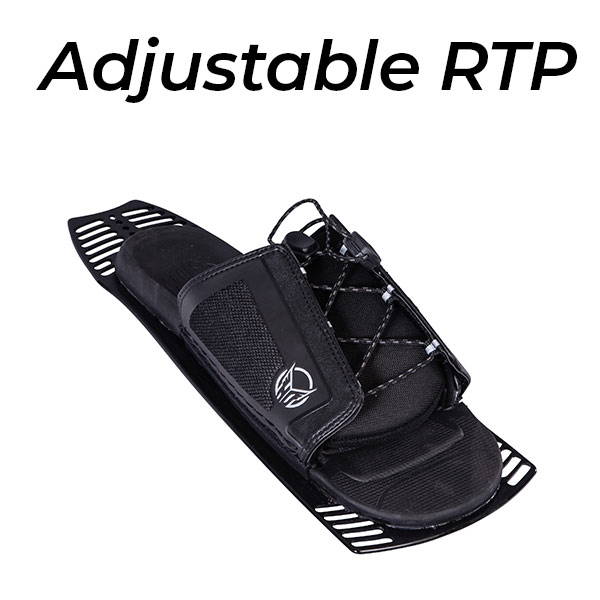 Fixed RTP
A fixed rear toe plate is made out of rubber and is not adjustable. Fixed rear toe plates come in sizes, and just like when choosing a waterski boot you will need to make sure that the fixed rear toe plate you get lines up with your foot size.
Adjustable RTP
An adjustable rear toe plate is a toe plate that features either a lace lock or the BOA/ATOP system which allows you tighten your foot into place. Adjustable rear toe plates do not come in specific sizes, and are instead one size fits most. This is by far the most common option when it comes to rear toe plates, as having the adjustability allows the skier to get a snug fit every time.
---