The words "boots" and "bindings" are used interchangeably in wakeboarding, but whatever you call them, they are one of the most important pieces of equipment you will own. Being comfortable on your board is crucial to enjoying your day on the water. Find the right boots that fit you and your riding style, and you are sure to have a great time riding.
---
Open Toe vs. Closed Toe Boots

When you are shopping for wakeboard boots you will notice that there are two main styles. Boots that have an open toe, and boots that fully enclose the foot.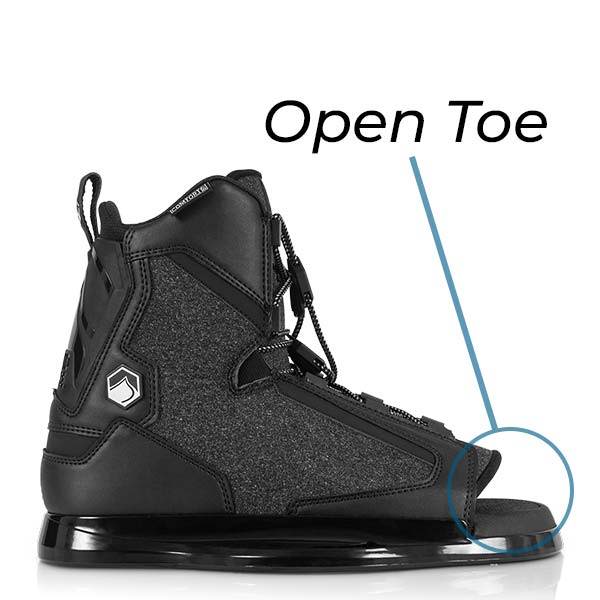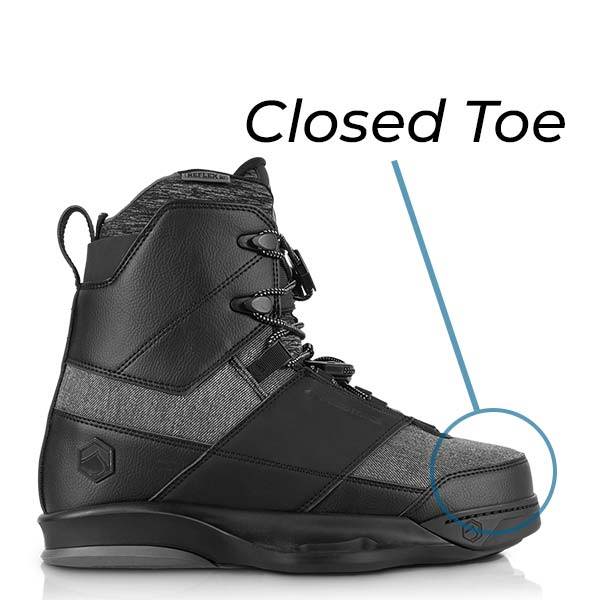 Open Toe
There are a few benefits to an open toe boot, a major one being that they can be shared by multiple riders. This is because they are made to accommodate a range of foot sizes and are not constrained by a toe cap on the end of the boot. For example, the popular Ronix District boot is made in 3 sizes, each with a range of foot size that they can accommodate. If you fall in one of these size ranges then the boot will work for you, and all your friends who happen to fit in that size range as well. However, what you gain in versatility and freedom, you do lose a little bit in performance. An open toe boot will not secure your foot quite as snug as a closed toe boot would, and they typically won't provide quite as much support either. For the majority of riders, a nice open toe boot will be more than sufficient.
Closed Toe

When you start progressing your wakeboarding you might want a more supportive and comfortable boot, this is where the closed toe option comes in. Closed toe boots are made to fit one (sometimes two) foot size. This means that the boot will only work for someone with the exact foot size of the boot you purchase, which makes sharing amongst your friends more difficult. However, with what you lose in versatility you gain in support and performance. A closed toe boot will be the most supportive option, allowing you to wakeboard at the highest level and allow you to really feel connected to your board when you are performing tricks.
---
How Should Wakeboard Boots Fit?

Wakeboard boots use U.S. numerical shoe sizes to determine the size of their boots. Wakeboard boots should fit snugly around your foot, but never cause any pain or pinching. For closed toe boots your toes should be just shy of the end of the boot, similar to how a properly fitted shoe will feel. For open toe boots, as long as you fit in the range of sizes the boot offers you should be good. However, if you are on the fence between two sizes it is always a good idea to size up. When you first take your boots out to ride, they will often feel stiff and that is normal, as the boots are fresh from the manufacturer and are designed to have a break in period.
---
Wakeboard Boot Lacing Technologies

There are quite a few different wakeboard boot manufacturers out there, and they all have different methods and technologies that are used to secure your foot into the boot. Some riders have preferences after riding a few different styles, but they all are designed to get the same job done.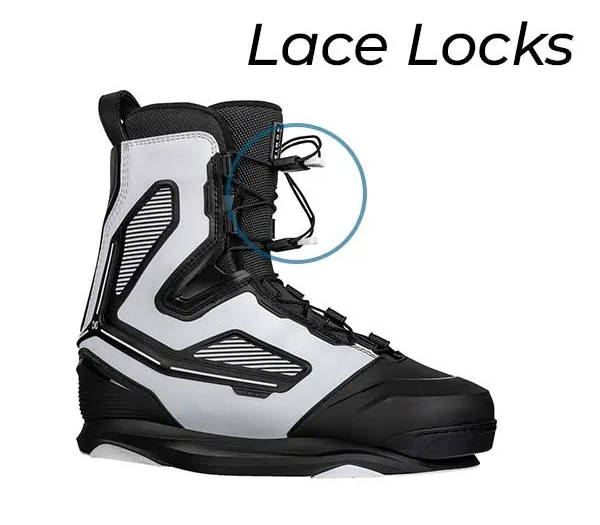 Lace locks have been used in wakeboard boots for many years, and are the most traditional way of securing the boot around your foot. Simply pull the lace tight, slide the lock down to the boot, and tuck the excess lace away and you're good to go. Lace locks are easy to use and adjust, however, some riders find that the lock piece can move while riding, causing the lace to loosen a little bit throughout the entirety of your set.
---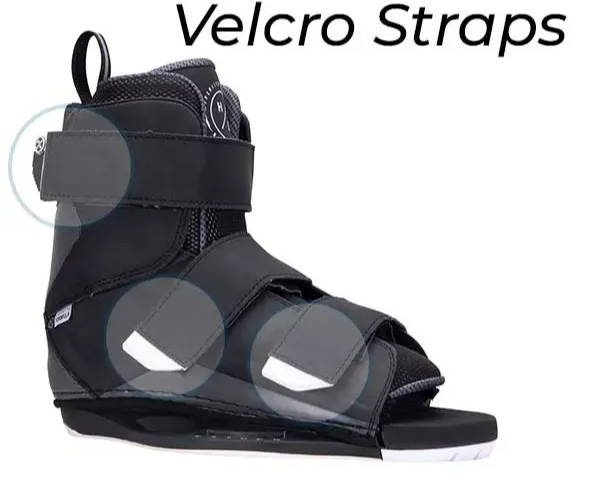 Similar to lace locks, Velcro has been used as a method to secure wakeboard boots for quite some time. Velcro straps are easy to use and adjust, and allow the rider to get a snug and secure fit without the need for any laces. Although Velcro is slowly getting phased out by newer technology it can still be found on quite a few boots, as a lot of riders still prefer it to other lacing methods. The longevity of the Velcro straps can be a concern as the Velcro on the straps start to break down.
---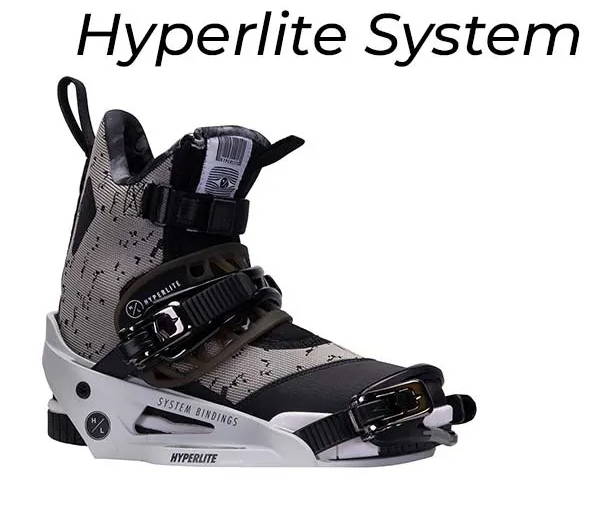 In 2011 Hyperlite introduced the System wakeboard bindings as an addition to their lineup of boots. The System binding is designed to mimic the boot and binding systems we see on snowboards. For this model, you have to purchase both a boot as well as the system binding piece. The boot fits like a normal closed toe wakeboard boot would, with the base of the boot being more rigid. The system itself features ratchets and straps which secure just like a snowboard boot and binding would. You can loosen the straps for a more playful feel, or snug them down for a secure fit. Hyperlite is currently the only manufacturer producing this type of boot, and some riders swear by them, while others aren't a fan.
---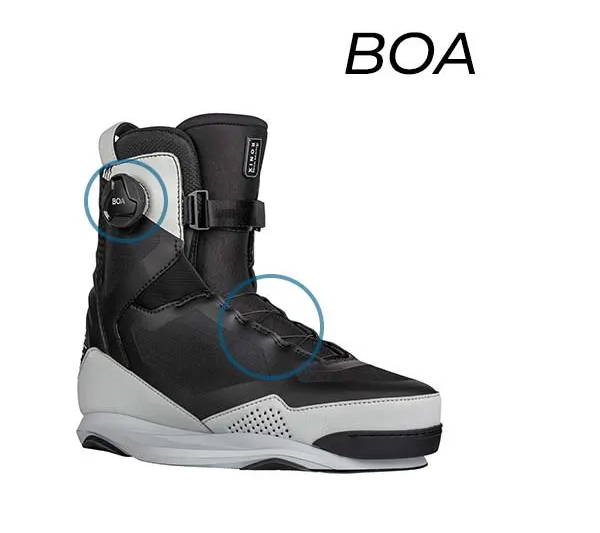 Although it is not very common in wakeboarding, BOA lacing is a technology that allows the user to twist a dial and tighten a series of cables that run across the top of their foot. This system is commonly found in snowboard footwear, as well as many other industries like running and biking. The BOA system is easy to use and gives you the option to "micro adjust" your boots to get the exact fit you desire.
---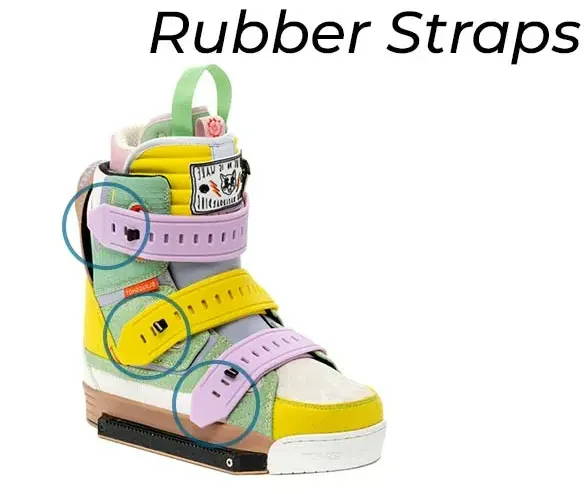 Some companies like Slingshot and Ronix use a newer technology to secure some of their boots closed. These straps are either made out of a rubbery material, or a combination of rubber and fabric material. The advantages of these systems are that they do not loosen over time, have tons of adjustability, and can last for many seasons if properly taken care of. They are also easily replaceable if you do happen to break any of them.
---
Some manufacturers offer boots with a removable and walkable liner that is typically made out of a lightweight foam and reinforced on the bottom. This liner attaches to your foot like a boot and remains on your foot for the duration of your session. Once you have the liner on your foot you insert your foot into the shell of the boot, which is attached to the board, and secure yourself in. Having a removable walkable liner is common at cable parks, as the walk back to the dock is made easier if you have that liner on your foot as it will protect you from uneven or rocky ground.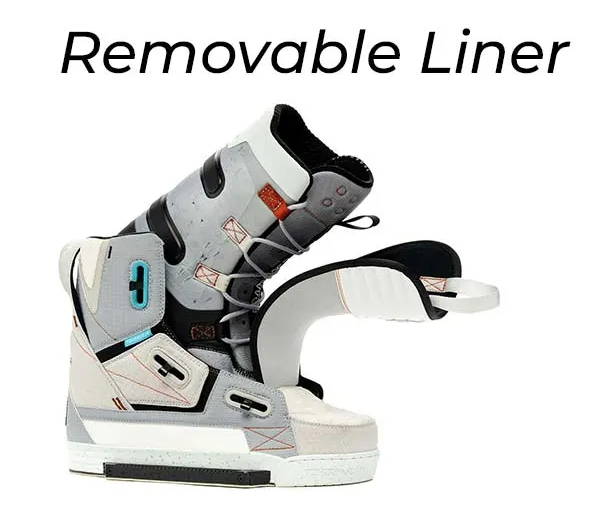 Additionally, some higher end boots like the Ronix One boots feature a liner that is heat moldable, which will give you a fit that is truly custom to your foot. While any boot will eventually pack out and form to your foot shape, heat molding your boots will allow you to immediately have a boot that fits perfectly to your foot.
---